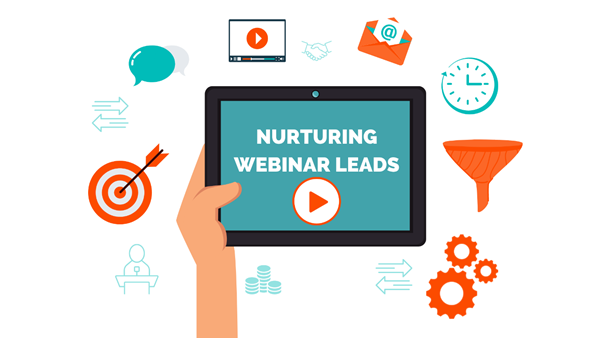 Webinars play an important role in customer acquisition and demand generation for B2B companies in many industries. In fact, marketing and demand generation is the primary objective of 1 in 3 webinars produced, and research suggests that they achieve these objectives quite effectively.
According to 73% of B2B marketers and sales leaders, webinars are the best way to generate high-quality leads, with studies suggesting that as many as 40% of webinars attendees convert into qualified leads.
Webinars are a significant time investment for any organisation, the time & effort required to take your webinar from planning through to execution can not be downplayed. However, the work doesn't stop once you go live, in fact, to reap the full benefits of a webinar, the follow-up activities can be just as important.
Actionable, qualified leads don't appear by chance to convert as many registrations as possible into leads you need to nurture them through the sales funnel. Follow these four practical steps to ensure your webinar's lead nurturing campaign is set up for success.
Segment Your Audience
Depending on the topic, webinar registration lists can be made up of leads at varying stages of the buying process, working in several different industries. A blanket approach to follow-up messages and content won't cut it in these situations.
To effectively nurture leads through your sales funnel, you'll need to segment the registration list into targeted groups.
Start with your registration form, ask for details you can use to categorise registrants early on, such as industry, job title and company headcount.
Other ways to gather data on attendees is through polls and surveys, most webinar hosting platforms allow you to ask those that attend questions during and after your webinar. Question and answer time also provides an insight into the mindset of attendees. Use these opportunities to gather data to gauge the level of interest and to fuel your follow-up activities.
Identify Hot Leads
Webinars are an excellent source of data, even if you've already implemented lead scoring as part of a broader lead nurturing strategy, it might be worth developing a set of criteria that is specific to webinar activity. When scoring webinars, consider the following factors:
Registration Data: Registration forms provide basic information such as job title, department, company size, location and industry.
Behaviour Data: This data outlines the level of interaction the lead has had with the webinar. This can be used to gauge the level of interest a lead has in the topic. This kind of data can come from questions asked during the webinar, viewing history, content interactions, social media engagement and survey results.
Instead of simply adding hot leads to lead nurturing workflows, have a sales rep follow up directly. You may even consider having a member of your sales team on hand for "Q&A" sessions at the end of your webinar doing not only humanising the follow-up activities but also leaving the sales rep better informed.
Provide A Webinar Recording
84% of webinar attendees prefer the on-demand version to watching live. It's for this reason the first follow-up email should include a link to the webinar recording and a copy of the slides you used.
Send a link to all your registrants, whether they ended up attending or not but remember to personalise the message you send (you don't want to thank someone who didn't attend for their attendance after all).
By making your webinar accessible to everyone, you allow yourself to capture those that weren't able to attend for one reason or another.
Try to follow up within 24 hours after the live event, so that your brand is still fresh in the attendee's minds.
Deliver a stream of relevant content
Content forms the basis of any good lead nurturing programme and converting your webinar contacts into leads requires you to deliver relevant content to each segment of your audience.
The length of time for a lead nurturing campaign will run will vary depending on your sales cycle, but aiming for 4-6 weeks is generally a good place to start if this is your first lead nurturing campaign.
Consider the buying cycle each segment are in, sending top-of-the-funnel educational content to hot leads won't yield the same results as sending it to leads still in the discovery stage.
Use the data we mentioned before to identify the types of content required. Questions asked during the webinar can give great insight into the sort of content that you can send to attendees.
Work closely with your sales team to ensure that any bottom-of-the-funnel leads are contacted as soon as they are ready to buy, with personalised messages from a sales rep instead of the marketing team.
Make Webinars work for Lead nurturing!
If you've been hosting webinars without a lead nurturing strategy in place, then now is the time to start! While it may take some extra time and effort to ensure you have set up a properly segmented and personalised workflow to follow up with registrants, it will help to provide higher-quality leads.
Here at Maven TM, we can help you increase registration and deliver high quality leads from your webinars. If you have questions on anything in this blog or would like to hear how we can your business reach out to us today!
Thanks for reading, check out the rest of our blog for more insights from the Maven TM team.