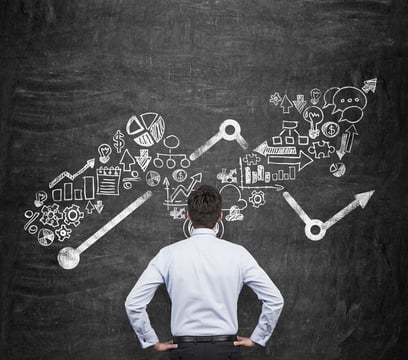 How do you know the NPS score you should be aiming for?
Using the MavenTM NPS Methodology you are kept constantly aware of the average NPS score in your industry so that you can benchmark your NPS score with average scores within your industry and against your competitors.
So why is industry benchmarking so important?
Every industry differs in its average NPS scores for various reasons. For example, department stores tend to make customers a lot happier than banks and consequently department stores typically have a higher NPS than banks.
Without the understanding of your industry average NPS score, you are missing out on vital information that can help you to stay ahead of the competition.
Keep in mind that NPS is just a number and whilst benchmarking against
the industry standard NPS score and that of your competitors, what's more important is the qualitative feedback that you get from your NPS surveys and of course, what you do with it to make sure you're improving your customer experience.
The MavenTM NPS methodology ensures that you are always
Aware of your industry average NPS scores
What is driving customers scoring in your industry
How you can capitalise on this information and turn it into increased revenue.
The most successful NPS methodologies are those that are adopted on a company-wide basis, engaging all employees and fostering a commitment to achieving and sustaining utmost customer loyalty.
Using the MavenTM NPS Methodology, employees are empowered to positively effect change to customer loyalty and consequently your NPS score by;
Adopting the ethos that no matter their role or location, every employee can effectively interact with and take action on customer insights and effect positive change to the customer experience.
Embedding NPS into your employees' daily routines and the tools and processes they already use.
Ongoing employee training and skills development in customer experience improvement.
Utilising a team problem-solving approach to analyse and address issues uncovered by NPS surveys.
Recognition and reward schemes that value and inspire employees to strive for customer service excellence in every instance.
For your winner's guide to using NPS to benchmark yourself against industry competitors with MavenTM, contact us here.