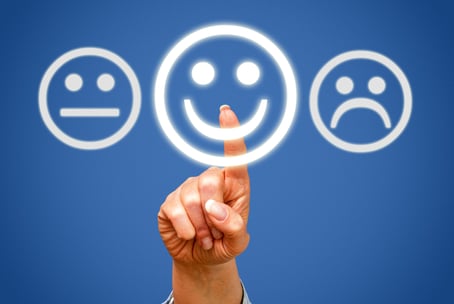 CSAT - Customer Satisfaction
CSAT is short for Customer Satisfaction, which is a commonly-used key performance indicator used to track how satisfied customers are with your organization's products and/or services.
Measuring CSAT
CSAT is measured by one or more variations of this question that usually appears at the end of a customer feedback survey: "How would you rate your overall satisfaction with the [goods/service] you received?" Respondents use the following 1 to 5 scale:
1. Very unsatisfied
2. Unsatisfied
3. Neutral
4. Satisfied
5. Very satisfied
The results can be averaged out to give a Composite Customer Satisfaction Score, although CSAT scores are more usually expressed as a percentage scale: 100% being total customer satisfaction, 0% total customer dissatisfaction.
Calculating CSAT
CSAT is calculated by taking only the responses of 4 (satisfied) and 5 (very satisfied) responses from the results of a CSAT, combining these and then dividing by the total number of survey responses. The result is the % of satisfied customers arising from the CSAT.
The MavenTM CSAT Methodology is the gold standard in understanding your customers needs and pinpointing what it is about your products and/or services that needs to change in order improve and sustain customer satisfaction.
For your winner's guide to using CSAT to track customer satisfaction with your products and/or services with the MavenTM CSAT Methodology contact us today .