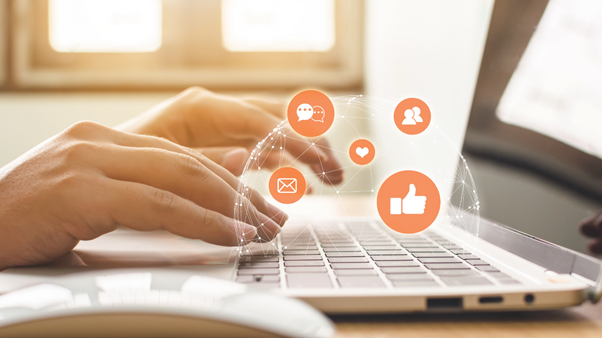 Some of you may have heard of a software developer named Bills Gates, among other things Bill penned the phrase "Content is King" in an essay back in 1996 when he described the future of the internet as a marketplace for content.
Content marketing has been prevalent in B2C arenas for years and more and more B2B marketers have adopted content marketing strategies to expand their audience, develop brand affinity and drive leads and sales by engaging, educating and delighting customers and prospects.
The way your customers are consuming content is always changing and it's important to stay up to date with the latest happenings. This blog will explore some trends to consider if you are looking to start utilising content marketing in 2021 or searching for ways expand your current content marketing strategy.
1. Long-Form Blog Posts
B2B sales funnels are complex. Some software offerings, for example, require not only an upfront investment but time to onboard teams and integrate into existing processes. While you may be sure your product can help potential customers if they purchase, selling the monetary and time investment to decision-makers can be difficult.
Today's buyers want to have access to in-depth information before they even talk to a sales rep. By providing this information through long-form content not only informs potential buyers about the ins and outs of your product but also goes a long way to build authority with search engines. SEMrush found that long reads (7000+ words) gain 4x traffic and 1.5x shares as average length posts (900-1200 words).
However, simply writing longer articles isn't going to flood your site with traffic. Longreads likely perform better because they provide value to the reader by delivering in-depth, relevant information on a topic, not because they have a larger word count than other blogs. Keep this in mind when you're writing blogs focus on providing relevant information to your reader in an engaging way.
2. Webinars
2020 saw large events like trade shows and in-person seminars brought to a halt, to fill the gap left behind B2B companies turned to webinars. Webinar hosting platform ON24 saw a 167% increase in its usage between April 2019 and April 2020. Livestorm found webinar lengths vary from industry to industry but a good length to aim for is between 30-60 minutes.
Webinars are a great way to deliver valuable information to potential buyers, they offer a chance to engage with them in a more personal way than a blog post or video. Registration lists and attendees can also be followed up and so webinars can be an effective form of content for lead generation. Not only that, but you can also gate your webinar after it's been delivered on your site to grow your contacts list!
With a growth in the popularity in the format of webinars and growing demand for video from B2B buyers it could a wise idea to look to utilise Webinars in your content strategy for 2021.
3. Live Video
Video is everywhere these days, a mainstay in B2C for many years, it's been increasing in popularity in B2B marketing. In fact, 73% of B2B marketers say video positively impacts their ROI according to Tubular Insights. Video can not only entertain but also educate with 70% of B2B buyers consuming along their path to purchase.
Live video is much more accessible to smaller B2B companies as it requires no editing, the lower production quality of the live video also makes it more attainable without the investment in equipment. 79% of marketers say live video leads to more authentic audience interaction. While 74% of live video viewers claim interaction in real-time helped them better understand products and brands.
With LinkedIn offering a live video platform it's never been easier to host lives sessions, hosting Q&As not only helps to educate your audience on questions they want to be answered but also shows the human side of B2B companies which can help build a relationship with your customers. This leads me to my next point.
4. A human-centric digital approach
The last 12 months changed the face of B2B marketing completely, some business that relied solely on traditional marketing activities were dragged into a digital era. In-person meetings were eliminated, and so human interaction became digital. Social media is the perfect place to build connections with customers. With no concrete date for the return face-to-face meetings returning. How can you make digital interactions that bit much more human?
Leverage social media, in particular, LinkedIn to engage in conversation with your audience. Be friendly, helpful, and educational. Empathic marketing has emerged as a trend as marketers try to navigate Covid-19 but adopting this approach long term can help build trust and facilitate loyalty.
How can you turn these conversations into potential leads? By leveraging the content, you are creating, ask prospects if they'd like access to resources. Build trust by providing useful and valuable content.
Social media communities can also help you get a feel for the problems your audience are facing. Digital forums can be a place to offer an empathic ear to potential buyers and allow you to learn how you can best solve their problems.
5. Content Atomisation
Content Atomisation was inspired by the concept of the atomic nucleus but simply refers to breaking down one piece of pillar content like an eBook, webinar or whitepaper into smaller, more focused pieces of content. These smaller pieces of content can then be shared on a variety of platforms to engage your target audience. Here's an example of what atomisation might look like: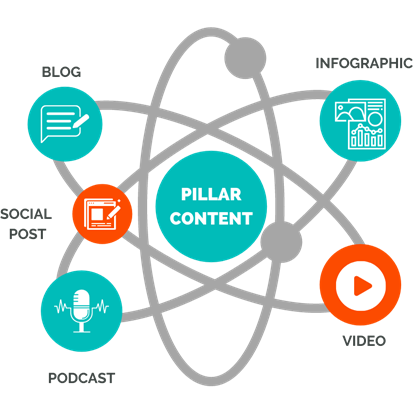 Creating good quality long-form content takes time to produce on top of research. When executed properly, content atomisation can provide a wide number of benefits for your business. Aside from the saving time and resources, smaller pieces of content are more consumable and sharable than long-form posts as well as presenting more opportunities to target specific keywords for your SEO efforts.
6. Focus on Search Intent
Search intent is what an individual is looking for when they search for something. It's a very simple concept that Google takes very seriously, which means if you're looking to improve the SEO of your content you probably should too!
If someone searches a specific term and is provided with irrelevant information this sends a signal back for google. A simple example might be someone searches for "How to" and is met with an array of product pages instead of informative posts, chances are they won't click on any. This tells google that the information didn't match their search intent.
By making search intent the driving force behind your content marketing strategy you can reach prospects at various stages of the sales funnel. It can also help you rank higher on Google by targeting keywords that mirror search intent you satisfy three of googles primary ranking factors relevance, authority and user satisfaction by providing relevant content that matches the search intent of the searcher.
Content Marketing is an integral piece of your inbound strategy while staying up to date with the latest trends is important, ensuring you have implemented a strategic approach to content marketing will ensure your content marketing efforts deliver for your business in the long term. Deliver quality content and you will attract qualified traffic to your website, and which will help to generate leads on a continuous basis. Want some help with content marketing? Why not reach out to Maven TM today and find out how we can help you deliver value to your target audience. Check out our content marketing services here.