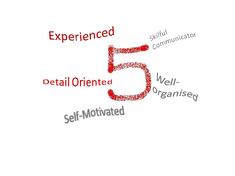 Often our clients ask us "How come Maven TM finds success when we've tried different telemarketing agencies and approaches with disastrous results in the past". The answer is always the same…it's because of our people.
Let's take a look at what qualities make a great telemarketer.
1. Experience
This will come as no surprise because experience counts no matter what the role. B2B telemarketing can't be about following a script. Senior decision makers know when they are talking to someone at their level and they do not have the patience to listen to someone reading a script. Junior telemarketers often lack the confidence and skill to let go from the crutch of the script and allow the call to progress naturally until the objective is achieve, whether that a commitment to a face-to-face meeting or an actual sale closed.
Experience telemarketers can apply their business acumen, knowledge and experience to each telemarketing call. They are able to have a peer-to-peer conversation with C-level executives and fully understanding the issues at hand. They know when to talk and when to listen. They know when to push and when to sit back. They can challenge their prospects into a different way of thinking rather than just reeling off some recently gained product knowledge. In fact, more and more sales research is showing that buyers no longer want to hear about features and benefits of products; they want to talk to a salesperson that can share insights about their company, industry, competitors.
2. Skilful Communicator
Again, this is a pretty obvious one. However many junior telemarketers underperform because they believe that communicating means talking more than the prospect. Their call objective is to give the prospect as much information about the product or service they are selling in the quickest time possible. This leads to a situation where the prospect is disengaged in the "conversation" or, worse again, too much information just leads to unnecessary objections. Overall the prospect should be speaking for 80% of the time.
Good communication skills really mean good questioning skills and even better listening skills. The top performing telemarketers deliver a concise, relevant pitch, ask the questions that count, and listen to the prospects answers. We ask focused, open questions to identify needs and then match the needs to the benefits. Most experienced telemarketers will be able to adapt their tone and language to mirror that of their prospect.
Telemarketers also need to be able to communicate the leads they generate effectively to the sales team. If they overemphasise the quality of some leads they risk that future leads will not be credible to the sales-team. However if they under-emphasise a lead, they risk that Sales will not prioritise and/or follow up on it. It's not good enough to have great verbal communication skills; great telemarketers also need to have great written communication skills.
3. Well-Organised
Co-ordinating diaries, managing time-zones, adhering to CRM protocols means that today's top telemarketers must be extremely well-organised. Companies that have a telemarketing or inside sales team tasked with setting appointments for the field sales team or account executives need telemarketers that can manage several diaries, rearrange meeting times and dates to suit both salespeople and prospects and ensure that a proper lead handover has happened before they disengage. With the rise of international business, telemarketers are dealing with different geographies and time-zones more than ever before. They have to co-ordinate their own calling schedules as well as the schedules of their sales colleagues and prospects.
CRM advances have helped telemarketers no end in becoming ever more organised but they still have to manage target lists and leads coming from a wide variety of channels and in different formats. Digital marketing means that inbound leads are a big feature of a telemarketer's day. Best practices shows that inbound leads should be responded to quickly for maximum return.
4. Detail Oriented
Well-organised also means that today's top telemarketers possess great attention to detail. This is hugely important when dealing with volumes of data. Data, in many respects, can determine the ROI (Return On Investment) of a telemarketing campaign. Firstly, it is crucial that correct data is passed to the sales-person that will follow up on generated leads. Secondly, data analysis can be used to drive marketing strategy and data gathered and verified will be used to execute future marketing initiatives, for example, email blasts and other telemarketing programs.
5. Self-Motivated
Telemarketing is a target driven role and top telemarketers are ambitious and self-motivated. Although experience comes in top in the list of key qualities, telemarketing is, to a certain extent a numbers game. Telemarketing agents need to be reaching a target of calls made, interviews completed, voicemails left, or they will never reach their target of leads generated.
Rejection is a daily if not hourly experience in the life of a telemarketer but the truly great people can dismiss any rejection and pick up the phone time and again. Top telemarketers know that someone, somewhere out there is waiting for their call!