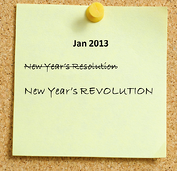 So 2013 is well and truly upon us and, as is the annual tradition, many of us approach this time of the year full of resolve and promise that we will give up this and start doing that. However all too often we end up falling off the bandwagon. This usually applies in both our business and personal lives.
So this year, how about a slight change of plan? Each and every one of us in the world of business should embark on a NEW YEAR'S REVOLUTION. Now I don't mean taking a pitch fork in one hand, a flaming torch in the other and storming your local government offices (I could not possibly condone such action!). However, with economies struggling as they are, it is definitely time to take matters into our own hands. In Ireland, the most recent budget passed just one month ago has been described as the most savage yet. In the USA, talks are of fiscal cliff deals, potentially devastating tax hikes and spending cuts which could send the country back into recession. So needless to say, very little is being handed to us on a plate these days. It is truly a case of survival of the fittest. Time to revolt!
So what has history taught us when it comes to revolutions?
Well firstly they start with an

ideal

. In this case the ideal is to grow your company, secure new business, ensure repeat business, and provide a product or service second to none in the market.
Revolutions can be

risky

. Any business leader will tell you that at some, or various, points they took a risk. For with risk, comes reward.
Strong

leadership

! Be your company's Che Guevara. Lead by example and your co-workers and employees will follow suit.
The

wherewithal

to achieve your ideal. Put in place structure and processes to help you reach your goal. Make sure you have good sales people, solid lead generation procedures that ensure a steady stream of highly qualified leads. For make no mistake without these leads you will win no new business, which in turn means no repeat business, rendering your product or service useless.
So let the uprising begin. 2013 – The year of the business revolution!
By Roger Brennan