The whole world has been digitised and B2B lead generation is no exception. B2B content marketing is becoming the norm for marketing departments in a whole host of industries with 46% of marketing budgets increasing their content marketing spending in 2020. 3 in 4 B2b Marketers claim they have successfully used content marketing to generate leads for their companies in the last 12 months according to the Content Marketing Institute with 24% of those saying they have had a portion of traditional advertising budget shift to content marketing. Customer acquisition has become more web-based with B2B buyers reading a reported 13 pieces of content before making a buying decision with an average of 8 coming from the vendor themselves according to research by Focus Vision.
Sales & Marketing Roles in Content Marketing
The shift towards a more digital business environment changes what is required from both sales and marketing teams. Good inbound marketing brings leads into sales teams and without the need to go searching for leads sales teams can instead focus on closing deals and maintaining existing relationships.
The marketer's role within B2B companies has also changed, raising Brand Awareness within an industry is no longer enough for marketing teams, instead, they must now focus on creating quality, engaging content which brings in leads. However, according to Informa 1 in 3 B2B marketing teams say a disconnect between sales and marketing is their biggest obstacle to converting leads.
To successfully execute a content marketing strategy both the sales and marketing team must be on the same page. In order to create valuable content for your marketing team must understand who it is aimed at, the sales team should inform them exactly what an ideal customer looks like. Sales must also ensure they know what kind of content marketing has been producing.
Once your sales and marketing are working together to ensure you're producing valuable content aimed at your target audience you're ready to start reaping the rewards of content marketing. Here's some points to consider when you're creating inbound marketing content.
Have Google EAT up your content
Quality content makes up any good website, the more content means content search engines like Google has more pages to scan through.
So how do you rank higher with content? Well one of the most important factors to consider when producing content marketing are E-A-T guidelines, short for Expertise, Authoritativeness, Trustworthiness.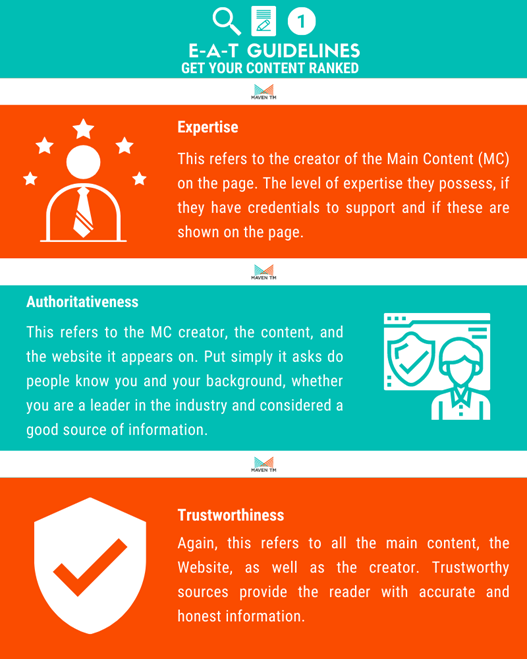 When creating content keeping the EAT guidelines in mind will steer you in the right direction. Remember good, quality content is supposed to educate the reader and provide them with value in order to convert them into a lead by recognising that your company are experts in their field.
Remember there's experts in your company outside of your marketing team that could write content which would certainly meet E-A-T guidelines.
You are not trying close a deal here, that is the job of the sales team, you are trying to show the value of the knowledge and experience of your company to prospects.
It's also worth bearing in mind that almost 70% of clicks on search engines come from the top 5 results, so trying to score high is definitely a worthwhile activity.
Gated Content means Higher Quality Leads
1 in 3 bloggers say gated content is the content format that performed best for them. Using gated content on your website helps to identify which visitors are genuinely interested in what you have to offer. They have taken the time to find your page and read your content and they want more
In today's fast paced digital world, a prospect taking time to fill out a form and provide you with contact details is a good sign of interest in your offering.
You can take it one step further by including fields which enquire about their role in the firm, number of employees or industry they operate in to further qualify your leads. However, less is more when it comes to fields, you want to make it easy for visitors to sign up so only look for this sort of data if it is going to prove useful in the long run.
Another benefit of gated content is its use in analytics, by gaining insight to who viewed the content and what sort of content interested visitors to sign up you can produce more valuable content.
Nurture Leads with Relevant Content
Content marketing can be a useful tactic in nurturing leads, the B2B sales pipeline is long, closing a deal can take weeks or months. By targeting leads with relevant information along their buyer journey you can help guide them along that sales funnel.
Marketing automation can prove especially useful and allow you to deliver relevant content and keep your company in the mind of a lead. Having a collection of content ready to send is essential if you want to use content marketing to nurture your leads right through your sales funnel.
Let's take a prospect who signs up for a webinar as an example, if someone signs up for a webinar but never hears from you again chances are they will not attend. However, targeting them like the below example outlines may increase the chance of attendance and conversion after attending your event.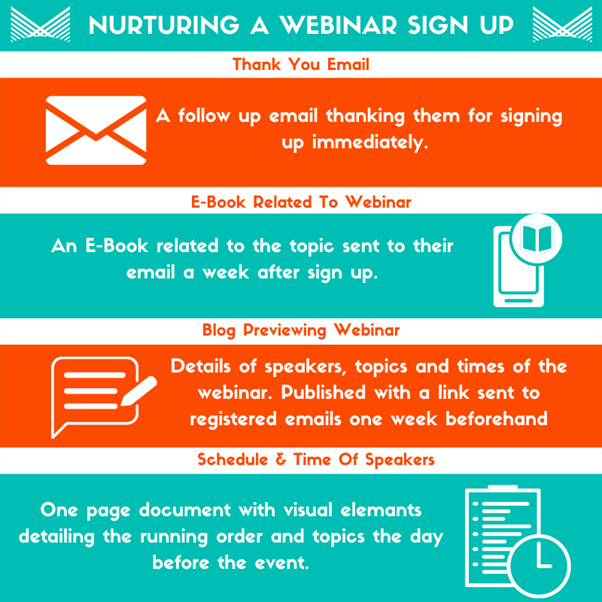 .
I hope this blog has given you something to think about. By creating valuable content, you can not only keep your current audience engaged and moving along the sales funnel but also bring in new leads looking for quality content from a professional source. Ensure your library is filled with content relevant to each stage of the buyer journey and it will go a long way to ensure your convert leads into sales.
Looking for help with content marketing? Contact Maven TM, our team of marketing professionals can help you with your strategy to get the most out of your content.
Thanks for reading!