The main goal when it comes to lead scoring is to help the marketing and sales team get a clear idea of which of their company's leads are more than likely to make a purchase and move forward with the offerings. Ranking leads with a predetermined value help these departments quickly identify customers who are within their pipeline.

Using HubSpot's predictive lead scoring tool automates the whole lead scoring process, and can help your teams access your most qualified leads quicker. Here is our quick guide to HubSpot lead scoring.

Identify Your Contact Criteria

The common criteria you have identified amongst your contacts that best describe your Ideal Client Profile (ICP), client behaviors, and the contacts BANT (budget, authority, need, and timeline). Lead scoring must be structured around the ICP and can only succeed if the ICP is accurate. Determine the ICP and clearly align it with the campaign goals.

For example, a SaaS company's ideal clients are businesses within the B2B technology industry.
The size of your targeting client profile is determined by your own capabilities. A company headcount of over 5000+ could be out of your capabilities, so rather determine the scope of the clients you can service. A client who is geographically outside of your ICP is negatively scored.
Whereby, an ideal client's business who is actively searching for a business with your services, and comes on your radar after they land on your services page, and fill in a demo contact form will be highly scored.

We have shared more information about the criteria and HubSpot recommended models of lead scoring here. Related: Six Models of Lead Scoring.

Cooperation between Sales & Marketing

Even though marketing is bringing in and qualifying the leads, the sales teams are having real conversations, and communicating with the leads on a regular basis. So, the sales team is likely to understand the prospects, their pain points, and triggers. They know the behaviors of the customers and should be fully involved in the creation of the scoring criteria.

Outline Your Lead Scoring Points

Next, start building your point systems. Use a point system that makes the most sense to your company, campaign goals, and ICP. Maven TM typically uses scoring out of 100 points but scores out of 10 does work too. So, the closer to 100 the lead sits at, the more likely they are to make a purchase.

Leads who sit below 20 points, for example, are less likely to purchase and make less sense to focus resources on, especially if they fall outside your ICP. This is also dependent on your campaign goals. If you are targeting UK customers, no point in targeting leads outside this geographic, and their points should reflect their negative location.

Aim for simple scoring and try not to complicate it. It is just as important to focus on subtracting points as it is to focus on adding points.

Here we have an example of positive scoring for a lead that opens a Marketing email or a lead who doesn't provide a first name and gets a negative –3 score. Incorporating negative scores into your lead scoring system helps remove those leads less likely to buy, but also filters out potential spam.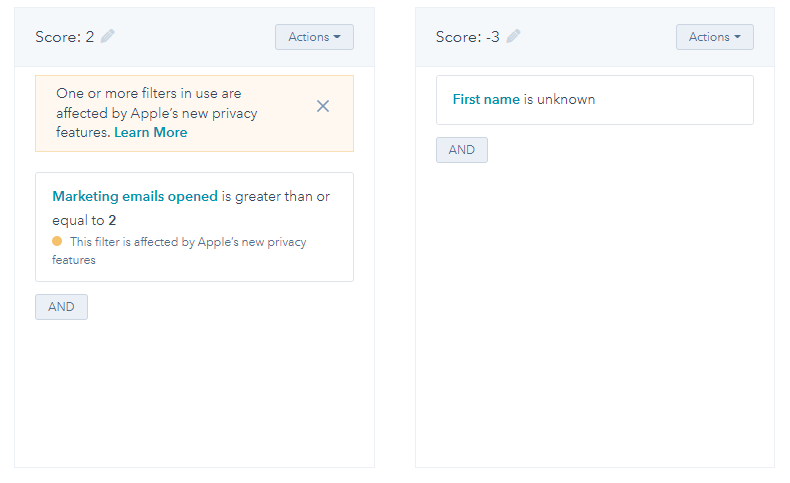 Once your scoring is completed, HubSpot allows you to generate lists around top-scoring leads. This pulls all those "more than likely to purchase" leads into one place.

Set Up HubSpot Scoring

Find Lead Scoring by opening your Open HubSpot, go to Settings --> Data Management --> Properties.

You can also search for "Score" in the search bar located at the top. This will quickly take you to HubSpot Score.

Build your scoring criteria into the tool. Take your time to accurately build the scoring system. The better the scoring the more accurate the results.

Activate and implement your scoring tools and incorporate them into your workflows through HubSpot.

Amongst other benefits, lead scoring can help focus the resources of the Sales and Marketing teams, and remain more cohesive in their efforts. As well as increasing the chance of a higher conversion because a lead is contacted by sales at the time of "most likely to purchase."

Sounds like a lot? Not to worry, that's why we are here. Maven TM takes the time to build your Lead Scoring through your HubSpot tool and creates scoring systems customized to your needs, goals, and ICP. These scoring systems are constantly audited and adapted as the market changes, creating a successful lead scoring system. Click below to learn more!