What is a Persona?

According to HubSpot, a marketing persona, also known as a "buyer persona," "is a semi-fictional representation of your ideal customer based on market research and real data about your existing customers."

Even though they have a name and personality trait, they in fact are fictional characters who represent your targeted customer.

They represent a group of people that the brand is targeting. Therefore, personalizing this group makes it easier and more effective to optimize products and innovations. Therefore, the persona is presented in a format of listing their habits, needs, skills, wants, job titles, decision-making roles, etc.

Why should you create a Persona?

Creating personas for marketing purposes takes time, extensive research, and constant refinement, but in the end, the benefits are many:

- Encourage customers to return more than once:

When you get to know your customers better, you can use that knowledge to personalize your content and focus your marketing strategy on certain types of customers. With your understanding of personas and current trends, you can create personalized experiences, targeted ads, customized media, and content that is aimed at your customers and prospects.

- Connect with your ICP at the right time:

Did you know that according to a study by Sprout Social, 76% of respondents say they are more likely to buy from a brand they feel connected to via social networks?

This means that in the digital world, it is imperative to know where your prospects are spending their time and how best to communicate with them. Personas take the guesswork out of campaign planning and leveraging prospects' social media habits and behaviors.

- Develop products in a more efficient and targeted way:

Understanding your customers' needs and wants can help you identify new products and services that your customers will love. This will increase your chances of building long-term relationships with your customers and increase your competitiveness.

Build your personas in 3 steps:

Step 1: Clearly Define the ICP

Personas should be created from data of real people. And these could be observed in situations or in ethnographic surveys. These studies are usually complemented by reports, articles, or publications. Also, personas can be constructed from extrapolated behavior. In this case, it is advisable to rely on a maximum of facts and observations gathered during:

- Qualitative interviews.
- An online questionnaire, qualitative and/or quantitative.
- Focus groups.
- Publications: web articles, books, synthesis, etc.

When creating the survey, make sure to ask the right questions to gather the right data. Focus on what data you need, and work backward when creating the research questions.

Step 2: Conduct an analysis and synthesize your market research:

Now that you have raw customer data on hand, you need to consolidate the information to make sense of it.

Classify the information you collect and identify common themes, such as shared challenges, preferred channels, types of communication, or similar responses to questions asked in your interviews. You can then use this information to create your personas; consider creating between three and five.

Your market research and observations could reveal that your older customers use your product primarily because of your customer service, which they consider to be of high value. Younger professionals prefer to get personalized messaging through visual media.

Your marketing personas can be as detailed as you like, adding and adapting the persona as markets change.

The aim is to get these practical details down on paper to guide your marketing strategy, decisions, and your timing of messages.

Step 3: Create the Persona

With your research, it is at this stage that the Sales and Marketing teams draw up the persona. This involves specifying the typical identity of each marketing persona.

- What gender is your marketing persona? What is their first name? Then what is his age? Where does he/she live? Identify your demographics.
- What is their Job Title?
- How involved are they with decision-making?
- What are their wants, needs, and problems they face?
- What are the expectations of your personas?
- Where do they source their information?
- What are the keywords used by your marketing persona?
- What day is the best day to make contact with this persona?

The previous step made it possible to give life to a persona, by putting oneself in its skin. It allows you to bring together everything that makes up the personality of this archetype. And also, to show their relationship with your brand throughout their sales cycle journey.

Business 2 Business Community shows a concise view that looks at an example persona who falls within the ICP.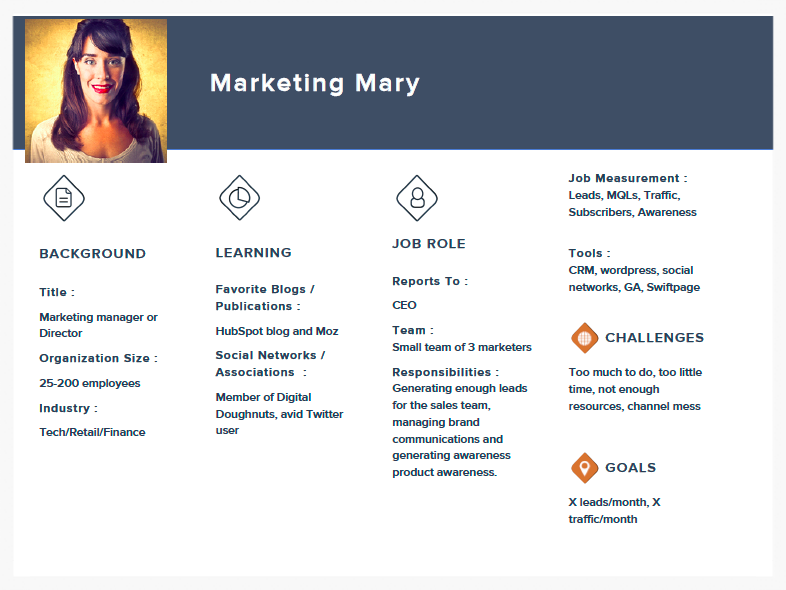 This persona model must be shared within the Sales, Marketing, and Customer Relations teams, to allow a cohesive approach to prospects and customers.

Personas are useful to help clarify who your customer is, what that customer's needs are, the decision-making process generally involved and how best to communicate to them.

Creating personas forces you to understand what drives your customers and to record this knowledge in accessible and easily searchable descriptions. This allows you to do the most important marketing tactic of all, which is to keep the customer in mind at all times.