We are now reaching the end of the holiday season, and each year, particularly in Europe, we see there is a strong spike in buyer activity that is something that all sales departments need to pay attention to.
This is a trend not just particular to the technology industry, for example the Global Purchasing Index in 2015 report this same trend: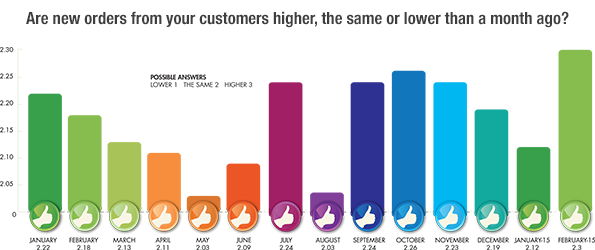 *Source: GPI Index 2015
Note the dramatic contrast between August and September! It is an annual pattern we have witnessed 'on the ground' with hundreds of technology companies over several years.
Slow out the Gate?
Another pattern we see each year, is that unfortunately sales and marketing departments are also returning from their holidays, and they typically only NOW are starting to organise campaigns and activities. As a result, they are often 'slow out of the gate' to take advantage of this key buying and selling time. We often see that these initiatives are not ready until late Sept/early Oct……. by this stage it is simply too late, as they've missed the 'September Buying Market and they then find that they are 'behind the queue' with the target buyers.
Not Just Sales Orders, but Sales Engagement for Later Orders Too
In terms of those technology offerings that have a sales cycle that can take a few months or longer, Sept is, YonY, peak 'engagement' time by Buyers to research, conduct evaluations and short list companies for buying requirements. As such, it is peak time for sales leads and sales appointments. Last year, for example, we saw an average 284% average increase in sales meetings in September on client campaigns compared to August.
The Window of Opportunity
Each year, we see this trend kick off on the week including Aug 24th, through to Sept 30th. So that Window of Opportunity is NOW!!
The earlier in this timeframe that you, the seller, reach out to buyers the better, due to a number of factors:
Get Ahead of Competition:

the earlier in August you engage with your buyer to discuss, arrange meetings and progress the sale, the more likely you are to be ahead of your competitors, as many of them don't 'get out of the gate' to contact them until September. Being ahead of them can be King in ensuring that you are best placed to secure the sale.

Budgets are Available:

the buyers still have available budget to use, some to be spend this quarter (before the end of Sept) and others to spend before year end. Therefore, this really improves your chances of impacting on your sales revenue within 2016.

Buyers have Urgency:

just like the rest of us, in the post-holiday period, buyers have a lot to get done in a small space of time e.g. backed-up projects, completing tasks and projects by deadline dates (often end of Quarter/Sept), initiating new projects and planning ahead to Q4 and 2017. By reaching out to and engaging with them, you are helping them get these things done.

2016 & 2017 Benefit:

many buyers are not just looking at their tech requirements for 2016, but also reviewing (or starting to review) their IT infrastructural needs for 2017. This then gives you a great chance of a winning impact on your sales in 2016 AND 2017.
Taking Action
A challenge for sales and marketing departments is harnessing and readying resources to take advantage of this 'Game Time' so that you can maximise sales results. For example:
Have available contact data on your target audience to use for a campaign.

Implement an effective email campaign, with offer, compelling messaging, and digital workflow (e.g. landing page, work process, reporting, automated replies).

Conduct promotional activities via digital marketing, including social media promotions on LinkedIn and Twitter.

Have 1,000 sales calls made in 2 weeks to your target audience by trained, effective staff.
If you have not organised the campaigns and resources ahead of time to be ready for this window of opportunity, then you have a problem. It's hard to swing around and launch an effective campaign with such a short timeframe to plan and implement.
So, how do you do it? If you've come this far, you might realise that Maven TM are a strong and feasible option for you. We HAVE planned ahead to this time of year, and have high performance, multi-disciplinary teams of trained, experienced and skilled staff that can implement effective campaigns for you IMMEDIATELY.
Contact us today for more info to help make September a great Success!