Here at Maven TM we have extensive experience in Lead Generation, over the last number of weeks we have been exploring LinkedIn as a means of generating leads. This week we will explain how we at Maven have made LinkedIn work for our clients. Through the use of LinkedIn, we can help to grow your sales pipeline and help you adapt to today's ever-changing business environment.
B2B Buyers Journey 2020
The buyers' journey has evolved and this rings true more than ever in today's environment while we attempt to come to terms of life alongside COVID-19. McKinsey found that as a result of the COVID-19 outbreak digital interactions were up to 3 times more important to buyers with almost 90% of companies moving to some form of remote model with over half considering the remote model to be more effective than their old methods. In 2020, nearly 70% of the buyers journey is completed before they reach out to sales. 71% of all decision makers say social media is influential while deciding to buy a new product for their company, with the average decision maker spending 2h 26m on social media a day. LinkedIn offers the perfect platform to catch these decision makers, but that is easier said than done.
The challenges and how we overcome them for you
Using LinkedIn to find potential leads can be a lengthy and time-consuming process. You can spend hours blindly filtering searching for suitable individuals, viewing profiles, sending message after message - all to no avail! Maven's expert team can pinpoint the right people to connect with in a fraction of the time. We use Sales Navigator along with our own set of specialised tools to improve the process of finding potential leads as well as importing existing contact lists to research and nurture existing contacts into valuable MQLs and SQLs.
LinkedIn can be a difficult to navigate. It is an everchanging platform, where sometimes certain practices that worked effectively previously may suddenly, overnight, become essentially redundant. This makes efficient and effective use of LinkedIn, that generates strong ROI, quite tricky to maintain over a period of time. Our team of experts keep up to date with changes in the LinkedIn platform and are constantly adapting the methods we use to keep our clients ahead of the competition.
As with everything we do in business, ensuring you get a return on investment is a key decision-making factor when it comes to using LinkedIn for Lead Generation. Here at Maven we use LinkedIn alongside other integrated marketing channels to ensure you get a significant return on investment, and we have the proof to back that up. Some examples and results of campaigns we have rolled out for clients implementing LinkedIn along with other channels include:
Voyager IP: Suppliers of Marine Broadband Services and solutions. Increased LinkedIn connections by 1400 and generated 77 times ROI within 3 months.
Kerridge CS: Provide fully integrated, specialist enterprise software, services and support for the distributive trade. Achieved 40 times ROI through a 1-month LinkedIn marketing campaign combined with telemarketing activities.
What is our process?
Without giving away all of the secrets to our success, the following is a brief overview of what we undertake on clients' behalf to fill our clients' sales pipelines with meaningful leads and opportunities.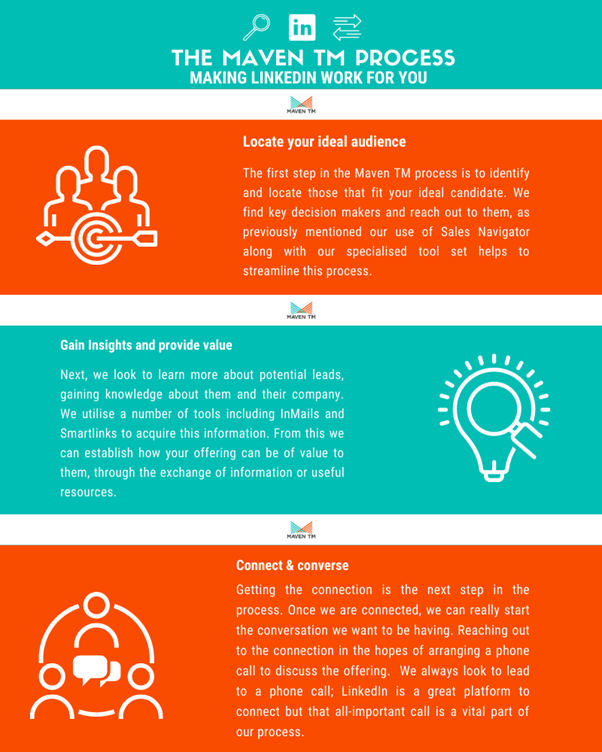 I hope this blog has gone some way to explaining how we at Maven Tm can help you fill your sales pipeline using LinkedIn. If you would like to hear more, please get in contact with us and we will be glad to go into further detail outlining exactly we can help your company. Thanks for reading our latest blog, we look forward to generating leads for you and your company!