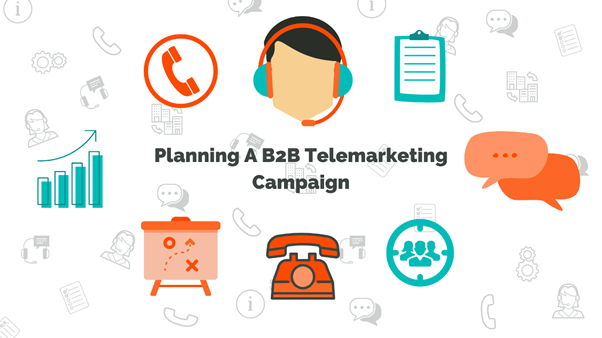 Anyone who has undertaken a B2B telemarketing campaign will tell you that it takes a lot more than an agent sitting down with a calling list and a script. Effective telemarketing requires research, planning and preparation!
If you are new to B2B telemarketing or just looking for ways to improve your telemarketing strategy, you've come to the right place. This blog will outline some helpful advice on how you can set your B2B telemarketing campaigns up for success from the start.
Define Your Objectives
To get the best results from any telemarketing activity take time to clearly define what you want to get out of your campaign. The objectives outline will guide the rest of your decisions and the resources needed to successfully roll out your campaign.
Use business objectives to guide your decision, focusing on clear, specific goals makes the planning process much simpler and ensure your campaign delivers the best results.
Research Your Target Market
Most organisations will have a complex buying process with multiple decision-makers and influencers. It's important to have a clear understanding of the types of organisations that you want to target, as well as the people within the organisation that influence the decision-making process. Three important questions to answer at this stage are:
What industries will you be calling into?
Where will you get your calling list?
What job titles are you targeting within these companies?
Forecast & Budget
Estimate the call volume of your campaign this will play a large factor in the resources you require to undertake your campaign. It influences the number of staff you'll require, what software and equipment you'll need to invest in and space you'll need to house your team.
These resources all require financial investment, pair this with the time it will take to source, hire and train suitable agents and the idea of undertaking telemarketing campaigns may not be feasible for every company.
If this is the case, you may want to consider hiring outside help. Outsourcing telemarketing activities to a professional agency can allow you to get campaigns up and running in a fraction of the time and deliver a healthier ROI in the long term.
Develop A Call Guide
Handing an agent a script to read from is a sure-fire way to have stiff, robot-like conversations with potential prospects. Reading the same lines on every call does not do provide buyers with a compelling reason to take the next step, it will probably result in them hanging up!
Successful telemarketing requires an agent to understand the buyer's challenges and the opportunities your offering can provide to overcome them. The solution is an effective "call guide", a succinct but comprehensive briefing document that includes typical objections, a strong introduction, and the reasons why the buyer should meet with you even if they have a solution or supplier in place!
Hire & Train Your Agents
A target list and a call guide are a useful starting point for telemarketing campaigns, but without the right people calling they're not worth the paper (or screen) they're written on! Telemarketing isn't for everyone, hiring experienced professionals will help start set your campaign up for success. Finding the right people can be difficult and this is another reason some firms choose to outsource their activities, choosing an outside firm ensures you have access to seasoned professionals without the need to hire.
Whether you're hiring in-house or outsourcing it's a good idea to undertake training on the product or service with the agents that will be calling before you launch the campaign. This kind of interactions is much more effective than a briefing document alone. Offer an opportunity for agents to ask questions this will help the caller to better understand the offering, the buyer, and the benefits you can provide potential customers.
Don't be afraid to change the plan!
After you launch your calling activities, analyse the results. Track calls and listen and monitor them if it's possible. Regularly reviewing performance can help identify if something isn't working. Something that seemed like a good idea in planning may not work as well in practice. Ask your agents for feedback, they're undertaking the conversations and may be able to provide insight into how you can improve.
Success Comes From Preparation
The success of a B2B telemarketing campaign comes down to the preparation that goes in at the early stages. Putting the effort into planning can save a lot of confusion and disappointment down the line.
If you feel like your business could benefit from telemarketing activities but you're lacking the resources or skills in-house to get started, why contact our team of experts here at Maven TM? Our team of professionals can get telemarketing campaigns underway in a fraction of the time it would take to launch in-house! Our project managers have planned and implemented over 3000 campaigns; they work alongside you to ensure your campaigns set up to meet your specific needs. Contact us today and find out how Maven TM can help you!