---
For most people involved in sales, sales pipeline management is a well-known term and a huge part of their sales strategies. If you understand and embrace the concept, you and/or your team are well set to meet sales objectives. However, according to a survey by Forbes in conjunction with the Sales Management Association, "63 percent of executives said that their organizations were ineffective at managing their sales pipelines." (see article here).
So what is Pipeline management and what are the steps you can take to improve yours?
We like to think of "sales pipeline management" as the proactive management and measurement of a company's potential opportunities, from opportunities identification, nurturing, to the closing of the sales and with the ultimate goal to generate revenue for the company.
Here are our 7 steps to help you manage your pipeline more efficiently:
---
1 – Define your sales pipeline stages: Think of a typical scenario from the moment you have identified a potential prospect to the closing of the deal. What stages are you going through to progress this potential opportunity through the pipeline? Ensure that you reflect the buying process of your prospects as this will impact on the timeframe and stages.
Example: Your pipeline stages may include a webinar/web demo attendance by the prospect, a follow up call and/or sales meeting, a proposal sent, a negotiation stage. It can also include a tender stage for your buyer. Tailor that list to your own situation and add the timeframe for each stage if possible (how long would the prospect stay in each stage).
2 – Define the Metrics: Your sales pipeline is a logical tactic to selling your product or service. Based on the above stages, there are four key metrics to keep in mind:
Number of opportunities in your pipeline: how many potential opportunities are in the pipeline?
Average monetary value of a deal in your pipeline: how much would one closed won opportunity be on average?
Average lead-to-customer conversion ratio (Successful deals): if you close 6 deals from a total of 100 potential opportunities, you have a conversation rate of 6%.
Average time the opportunity is in the pipeline before it is converted or won: how long does it take to close a deal, from the moment you identify a potential opportunity?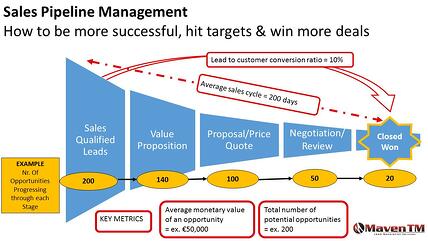 Calculate these metrics for your business by using last year's data or the last 6 months. Okay, so now you know your metrics……What's next?
3– Setting Targets: Your average metrics are your reference for current results and future trends. See example below.By knowing your averages you can figure out what you need to do to stay on track.
For example, let's say you know what your average number of opportunities in the pipeline should be.If the number of opportunities in the first stage is below your average, you will be able to inform your sales team that they need to make up X amount of qualified leads to stay in line with the numbers you had previously. Or on the flip side, if the value of the deals are higher than your previous average, you're on track to a good year! And all this information will be stored in your CRM platform.
4 - Data Input: "You can't manage what you can't measure", is an old management proverb that is still very much relevant! It may sound obvious, and maybe you can relate, but for your pipeline management strategy to be successful it is so important that your sales team update and input the correct data into your CRM. This seems a no brainer, but can be branded as a painful chore for the sales team!
5 – Review Regularly: Make sure to annually review your sales pipeline metrics and ensure your averages are input correctly. Review regularly the current results also, and compare them to the set metrics. Not only can you monitor these areas, you will see other aspects your sales team could improve on by looking at your funnel. By regularly reviewing, you will be able to assess how you/your team is performing, and whether extra input is required to ensure targets are met.
For example, you could determine the need to hire a new sales person to assist with above average deals. You could also push for a quicker shift on opportunities from stage one to stage two. Which brings me to my next step!
6 – Nurture, Nurture, Nurture: Of course you are going to have some leads that are just not ready to commit yet. These potential leads cannot be forgotten. It is crucial to implement a lead nurturing process whereby streams of emails, checkpoint calls, offers of whitepapers and product information, and invitations to webinars may help tocapture their interest further. Additionally, you will be at the top of the prospect's mind when they are ready to engage. There are plenty of automation tools out there that can take over this process for you so your sales team can focus on those hot, ready to go and qualified leads.
7 – Build from the top of the funnel: To ensure you meet your target of closed won deals, you need to have a sufficient number of potential companies to work from. These lie at the top of the funnel and should be a pre-qualified list of companies/contacts who fit the criteria of your ideal customer base – vertical, employee range, revenue range, ideal target titles, purchasing centres, assessors, influencers, decision makers. This is the list your inside sales team will be prospecting into and should be treated as gold.
If this list is not sufficient and you lack resources to ensure it is sufficiently filled, you may consider outsourcing your lead generation to provide your team with good quality leads throughout the year. Maven TM is expert at identifying sales opportunities and feeding these into our clients' sales pipeline. We also help in the nurturing process so that our clients' sales team can focus on closing the deals.
---
Now you have all the keys to help you manage and have visibility on your sales pipeline… what do you predict will happen throughout the year???
Use our Checklist for Successful Sales Pipeline Management to get you started -
Maven TM is a specialist B2B Telemarketing and Sales Lead Generation company. With hundreds of sales lead generation campaigns completed successfully for technology companies, Maven TM consistently helps companies achieve their sales strategy and stay close to their markets. For more information, please contact Maven TM at info@maventm.com.
---