Welcome to the next in our series of blogs exploring LinkedIn and Lead Generation. Today I am going to discuss the paid solutions LinkedIn offers. Microsoft reported LinkedIn sessions have increased by 26% in Q3 of 2020. With people on the platform more regularly how can you invest on the platform and adapt your lead generation process while we come to terms with a Covid-19 influenced business environment? A recent survey by Dun & Bradstreet found that 70% of marketing budgets had been cut, while 76% are facing an "increasing pressure to deliver leads since the COVID-19 outbreak." If you find yourself in a similar situation read on and find out why focusing your efforts on the platform makes sense.
Why should you be using paid strategies?
The primary aim of Lead Generation is to fill your sales pipeline but the secondary aim for any company is to do so with as little spend as possible. HubSpot found The Cost Per Lead from LinkedIn is 29% lower than Google Adwords. The results on LinkedIn speak for themselves take Matmatch as an example, they managed to cut their CPL by more than half, grow their user base by 150,000 in a year and generate 1000 high-quality leads.
Covid 19 has resulted in a huge number of trade shows and conferences being cancelled with no view as to when these will be rearranged. Bubble Agency investigated the impact this has had on B2B Marketing with 56% of industry representatives identifying a loss of sales qualified leads. LinkedIn offers an alternative to spending which would have gone to costs associated with these events and save you on the CPL, with Visitor Queue averaging the cost per lead for a trade show at around €690 that's more than ten times the €63 average CPL using LinkedIn Advertising! 30% of B2b marketers have already seen their trade show budget disappear due to Covid-19. LinkedIn advertising allows you to instead invest your shrinking budget on a more effective means of lead generation that can deliver a higher return on investment. Templafy, for example, achieved a staggering 475% ROI pipeline value from its LinkedIn campaigns.
Types of Paid Content
There are several paid strategies you can employ to fill your sales pipeline, let's look at what they are and how you can use them to capture those all-important leads.
Native Ads
Sponsored content lets you reach audiences directly. Sponsored posts appear directly in the newsfeed and can be recognised by the word "promoted". They allow you to put your content in front of potential leads whom you are not connected with and ensure those you are connected with seeing your content first. Follow these recommendations and effectively reach potential leads.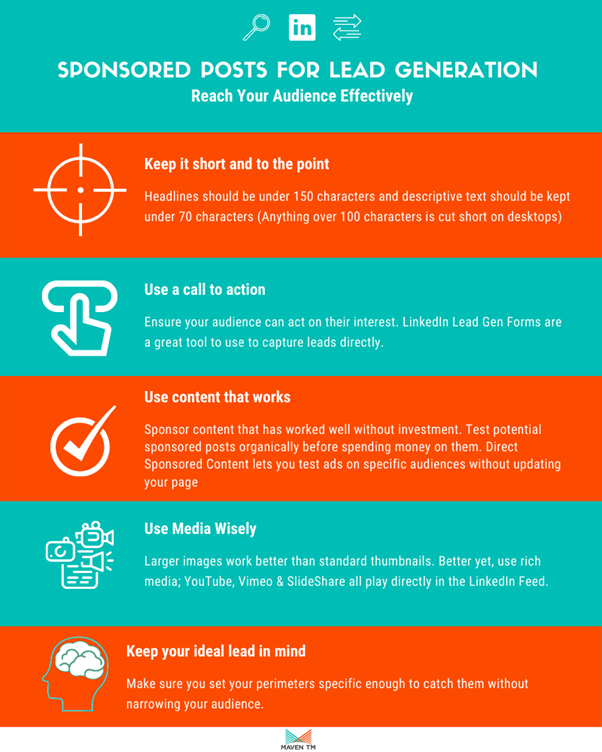 Sponsored InMail
Sponsored InMails are delivered directly to your target audience's messages. They allow you to deliver targeted messages without the worry of character limits and lets you include a clear CTA. Messages are more likely to be opened when compared to an email campaign. Using Campaign Manager allows you to view more information on click-through and open rates, adding Smartlinks lets you gain more insight on those who acted, useful for follow-ups. LinkedIn Lead Gen Forms also allows you to gather meaningful leads directly. Here's how you can make sure your message ads are ready to turn their recipients into leads.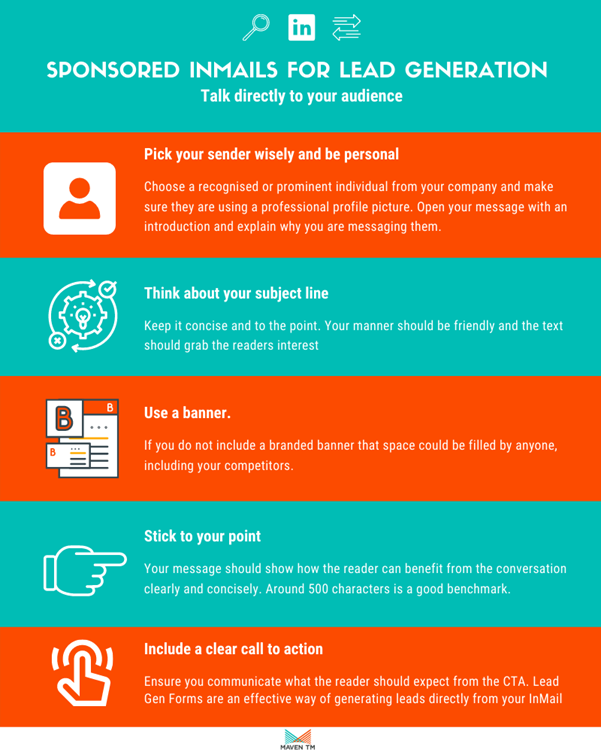 Lead Generation Forms
Lead Generation Forms are useful additions to both sponsored content and sponsored messaging campaigns. They allow you to generate qualified leads in a few clicks. The forms are fully customisable and let you include up to 12 fields. When members open your form they will see the information prefilled with some contact information such as phone numbers and emails allowing edit. The inclusion of campaign tracking metrics such as cost per lead, lead form fill rate and the number of leads you are generating from specific audiences lets you effectively calculate ROI. Leads can also be exported from Campaign Manager or integrated with CRM or Marketing Automation tools. Here's how you can make the most out of Lead Generation Forms.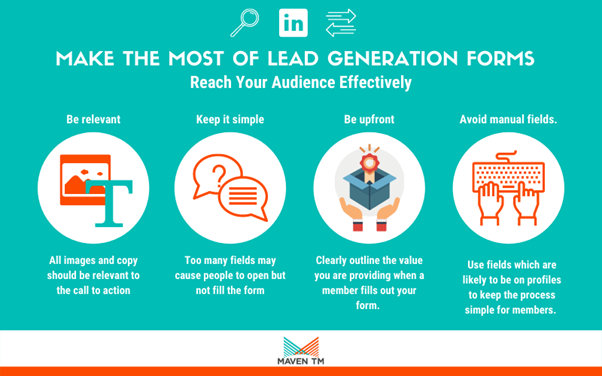 While we try to overcome the challenges Covid-19 has thrown at us, it's important to adapt. While the loss of trade shows and conferences may have seemed like a negative LinkedIn offers a chance to reinvest budgets and still see a sizable return on investment. I hope this blog has helped you realise how valuable a tool paid advertising can be on LinkedIn. Thanks for reading and check out the next instalment of our LinkedIn series and find out how Maven TM uses LinkedIn to fill our cleints sales pipeline.