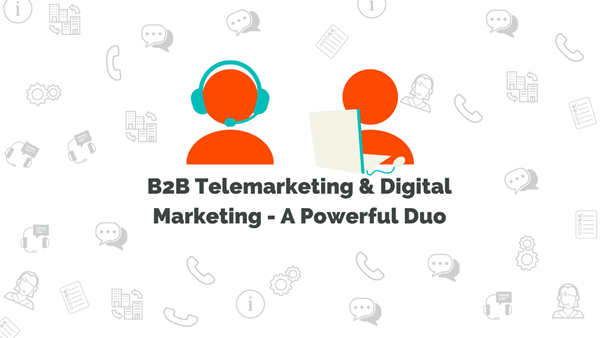 In our last blog we discussed the importance of human interaction in B2B telemarketing, today we're going to ask: where does B2B telemarketing fit in with your digital marketing strategy?
Telemarketing has been a proven method of outbound marketing for years. In the B2B arena, there is no better marketing tactic than B2B telemarketing to directly reach decision-makers. Telemarketing is used to deliver sales and help with lead generation, data gathering, and customer relationship building. It is still undoubtedly one of the top methods to generate sales or interest, especially when implemented in parallel to digital marketing tactics. So how does that relationship work?

Below we cover some digital marketing tactics employed by companies and describe how telemarketing can enhance these digital efforts.
LinkedIn activities

According to Kinsta, 40% of LinkedIn users check LinkedIn every day with 690 million users on LinkedIn, that's around 276 million users checking in daily! While marketing through any social channel is great for building awareness and promoting your brand, LinkedIn is an especially effective way of building relationships and advertising for B2B companies, check out our blog exploring LinkedIn as a method of lead generation here.

Using LinkedIn offers business a wide range of both paid and organic methods to demonstrate your value to your target market through frequent posting of relevant content about both your company and solution(s). Calling prospects that are interacting with your brand on LinkedIn about your solution, not only gives you a better chance to have a conversation, but you are more likely to have a better-quality conversation, as your prospect is already familiar with your brand.

Email Marketing

Sending out emails to your prospects with company information or offers works very well in conjunction with a B2B telemarketing campaign. However, there are several things to note with email marketing. Remember to make your email as relevant to your prospect as possible. This will make you stand out from all the other promotional emails that your prospect could receive on any typical business day. Have a clear call-to-action in the email so your prospect knows what they need to do and how to follow up.

Queue telemarketing - Wait about one or two days after sending the email before giving the prospect a call, ideally focusing on people who have read or clicked on your email first. This will allow for enough time for the prospect to have read the email but not enough for them to have forgotten about it. And why not start by mentioning the email and its content? B2B telemarketing involves direct human interaction with your prospect, thereby increasing their trust in your brand and also allowing you to know whether an interest is truly there, rather than waiting for them to come to you.


PPC campaigns

PPC (Pay-per-Click) advertising and Google AdWords allows you to reach your target consumer at the right time with the right ad. Ensuring you have relevant advertisements in your PPC campaign will allow for better quality prospects clicking on your ad and converting on your website. Knowing what your target market wants and how they will search for you is important – this will help to reduce irrelevant clicks that will just end up eating into your budgets.

When your prospect clicks on your ad, ideally you want them to interact in some way with your website, for instance, fill in a form or sign up for your newsletter. It is important to ensure that whatever landing page you choose to link to your ad has a clear call to action.

Again, Queue telemarketing – After the prospect has clicked on your advertisement and interacts with your site, call them! Find out their needs or current issues and let them know what you can do to solve this.

telemarketing supports your digital marketing activities

Telemarketing is a proactive approach to lead generation and leads nurturing, allowing your sales team or outsourced telemarketers to uncover genuine sales opportunities and progress those opportunities through your sales pipeline. This is in comparison to perhaps the more 'sit back and wait' approach you may associate with digital marketing. However, hand in hand they complement each other very well.

While you can't ignore digital marketing, you cannot neglect your telemarketing efforts either. By having a good mix of digital marketing and telemarketing, your solution will remain positioned in the prospect's mind which can make for a very healthy sale pipeline.
Here at Maven TM, we have a team of telemarketing specialists and digital marketing professionals who work together to ensure we deliver results for our clients. If you want to find out more about how our team can help you with an integrated campaign, reach out to us today!